Hungry Ninja is the new fast-paced game that will keep your mind fresh while having tons of fun & excitement!  Simply avoid the cardboard and collect the gourmet…but easier said than done!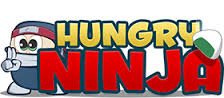 Play on your mobile device or tablet.  Hungry Ninja delivers hours of excitement and challenging moments while having tons of fun.  The recently launched GameLoot Network has done it again, and you can download Hungry Ninja through the GameLoot Hub for FREE!
THIS FAST PACED GAME THAT WILL KEEP YOUR MIND AND REFLEXES SHARP WHILE HAVING TONS OF FUN & EXCITEMENT!    With 5 unique stages to challenge your skills, you can look forward to hours of fun and excitement for everyone.
Highly addicting gameplay!
Awesome game sounds to keep you entertained while you play!
Unique and challenging, yet fun-filled levels!
Share your success stories with your Facebook friends!
Fun game for all age groups!
Compete in Daily, Weekly and Monthly Tournaments against friends, family and others worldwide to Win Cool Prizes Inside Loot Cove!  With tons more advantages waiting for you, including 50 tokens/month that can be used to upgrade within the games, or redeemed for cool & amazing prizes inside Loot Cove, there is no doubt why being a Premium Gamer is every gamers first choice.
Game Loot Network is a new mobile gaming community where casual gamers from around the world can participate in a live, social gaming ecosystem. Players have the opportunity to interact, play and compete against family, friends, or other gamers in the Game Loot Network platform all around the globe.